Company Introduction:
Founded in 1987, Oubao Security Technology Co., Ltd. is the first joint-stock company and the largest professional manufacturer of door closers in China. With registered capital of 55.8 million RMB, we offer a broad line of security protection products, including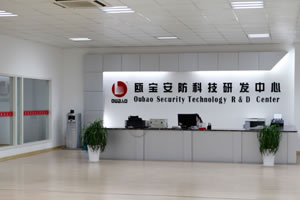 door closer, fingerprint lock, panic exit device, electronic lock and intelligent lock. These innovative door closers offer a wide range of applications in industry complex, hotel, restaurant, shopping mall, supermarket, hospital, school, healthcare facilities, sports arena, exhibition hall, library, passenger traffic station, airport as well as other wide public and commercial settings.
In 2009, Oubao completed stock reorganization, approved by the State Administration for Industry and Commerce. We obtained the standard certifications of ISO9001:2008, ISO14001:2004 and OHSAS 18001:1999. Also we are able to manufacture products in accordance with European standards and American standards, such as CE,EN1154 ANSI156.4, UL, c UL, ETL,ITS, TUV,  etc.These certificates are valid demonstrations that Oubao Security Technology Co., Ltd. has strong capability and high sense of social responsibility to design and develop door closer, electronic lock and panic exit devices.
As a pre-IPO company, we enjoy a broad international market. We can provide 80% of our Oubao security protection products to customers from the entire American continent, Europe, Southeast Asia, Middle-East, Africa and Oceania, including more than 80 foreign countries and regions. As to the domestic market, Oubao builds a country-wide distribution network. We keep the long term stability cooperation with our customers these years. We can reach annual output of 6 million door closers and 500 thousand locks.
Main products and Their Corresponding Applications:
1.Door Closer: a mechanical and hydraulic automatic closer suitable for all kinds of places;
2.Electronic Lock: an electronic automatic opener and closer suitable for all kinds of places;
3.Intelligent Lock: an electronic automatic lock controlled by inputting signals, alternative for all kinds of places;
4.Fingerprint Lock: an electronic automatic lock mainly controlled by fingerprint, alternative for all kinds of places;
5.Keypad Card Door Lock: an intelligent lock controlled by card or password, alternative for hotels or other places;
6.Passwords Lock: an automatic lock controlled by password, suitable for all kinds of places;
7.Digital Peephole Viewer: equipped with electronic camera shooting function, through which image will be transmitted to the indoor monitor after calling;
8.Panic Exit Device: a mechanical manually operated ironware for emergency exit;
9.Electromagnetic Lock: an electronic magnetic automatic lock controlled by electricity, alternative for all kinds of places;
10.Others: flush door, metal door, fire door, glass door with mullion, etc.
Advantages of Our Company:
1.Strong R&D Capability.
Cooperated with TUV Rhineland group, American ETL SEMKO, ITS, UL and other international authoritative laboratory as well as Zhejiang Industry University and Dalian University of Technology, our provincial-level R&D center, with an occupied area of 7,800 square meters, established product laboratories up to national standard and brought in advanced intelligent testing equipments;
2.Honorable Reputation.
We are successively entitled as National High-Tech Enterprise, Provincial-Level R&D Center, Trustworthy Brand of Security Protection Supplier, Standing Director of China Security and Protection Industry Association, China Famous Brand, High Standard and High Quality Product Supplier, etc;
3.Qualified Researchers.
We own 36 highly educated young researchers and engineers devoting in high-end research, reform and technical support. Due to the specific goal and proper investment, we've developed a series of high-tech security protection products in two years, including intelligent fingerprint trick lock, intelligent electronic lock and automatic intelligent door closer, etc. And more than 20 projects are under close research and improvement;
4.Advanced Technology.
Oubao take the intelligence processing technique and biometric identification technology as core to develop optical, electromechanical, fingerprint recognition and other high-tech security protection products. Thanks to the help of high-velocity electron devices, Oubao SMT workshop outputs clean, non-static zinc and stainless steel products with professional design and modern appearance;
5.Strict Quality Control System.
According to different product types, most incoming materials are under full inspections and some are undergone sampling inspections. We also resort to strict outsourcing supervision to guarantee the superior quality. We have gained the qualification of independent third party testing. We are the main member of drafting out National Sector Standard OB/T2698 door closer and OB/T2697 floor spring;
6.Cost Saving.
By introducing and updating new machinery and equipment, increasing the technological investment, adopting ERP management method, reducing unit labor cost and the energy consumption as well as bulkily purchasing raw materials in line with the proximity principle, we achieved a good results of cost saving;
7.Environmental Production.
Our production process is fairly environmental and nearly without any pollution;
8.Super Large Annual Output.
Till now, we're able to annually output 6 million door closers, 100 thousand electronic locks, 200 thousand intelligent locks, 100 thousand fingerprint locks, 200 thousand keypad card door locks, 200 thousand password locks, 500 thousand digital peephole viewers, 300 thousand panic exit devices and 100 electromagnetic locks;
9.Pre-sale, In-sale and After-sale Services.
We provide both free and chargeable samples as well as information consultant services on our door closer, fingerprint lock, panic exit device and other relative aspects before trade. Concerning the in-sale and after-sale services, easily damaged parts can be compensated freely or for charge according to specific circumstance and negotiation. During three years warranty, products can be changed for free. The delivery time is determined by product types, usually various from 20 days to 60 days;
10.Ample Optional Services.
We also offer custom design products according to customers' special requests. Installation service and operation training service can be provided for free in our plant or for charge in other places;
11.OEM Available.
Oubao is competent to undertake all series OEM production of security protection products.
The eternal pursuit of Oubao Security Technology Co., Ltd. is to meet the diversified requirements from customers. We are sincerely looking forward to cooperating with you for mutual benefits. To know more information about our products, please visit our website or contact us directly.